In a time when everything is going through a tectonic shift for its quality improvement, the cosmetic industry is not behind as well. As people opt for natural ingredients in beauty products, they also look forward to using cosmetic products having a long shelf life. For this reason, the phenomenon of airless cosmetic packaging comes into play.
THE PHENOMENON Of

AIRLESS COSMETIC PACKAGING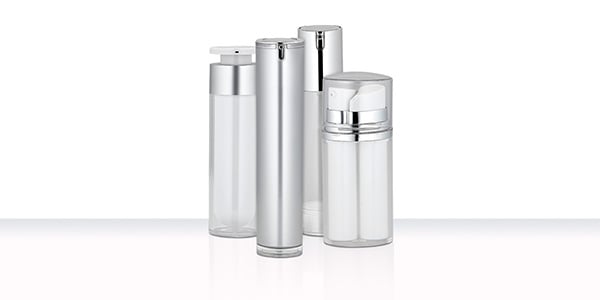 Airless cosmetic packaging prevents oxygen from creeping into the cosmetic substance found in the packaging. It can prolong the shelf life of the product by up to 15%.
Airless containers possess a small plate. When anyone presses the pump, its plate comes out upwards. The given action pushes the substance evenly to the top.
Nowadays, airless pump bottles have been gaining popularity for cosmetic packaging solutions. Because people find it convenient to use airless bottles, more brands are choosing it to draw the interest of consumers. In a short time, we might witness a complete replacement of conventional jars and dip tubes with airless bottles.
AIRLESS PUMP BOTTLES
In cosmetic packaging innovation, airless pump bottles have played a breakthrough role. It helps protect skincare creams, foundations, and serums by preventing air exposure to each container containing any substance.
The advanced technology employed in the airless pump bottles incorporates a diaphragm. It allows the substance used to the maximal level without anything left into it.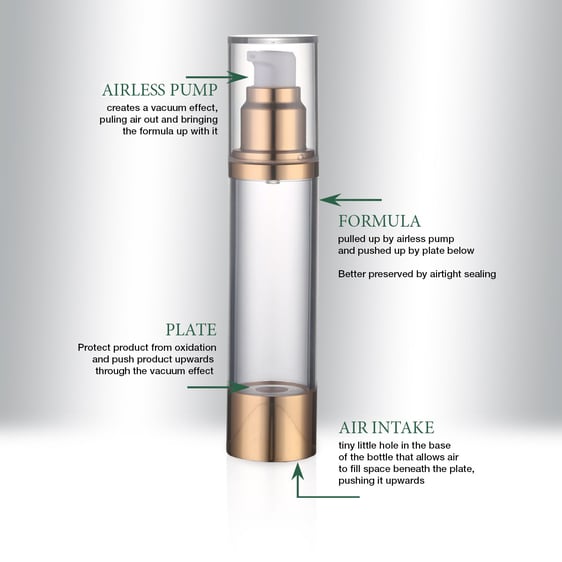 Let's see some significant benefits

of using airless pump bottles:
Sense of luxury


It gives a sense of using a luxurious product to a user as an airless pump bottle contains a double wall.

INCREASED PROTECTION

The double-wall feature provides increased protection to the substance contained in the container.

IDEAL FOR INCORPORTING A LOGO

With an unambiguous wall of the airless pump bottles, it lets a brand have its logo imprinted outside the bottle. More than that, it enables the buyer to see the product coloration from the outside before deciding about buying it.

PERFECT FOR SENSITIVE PRODUCTS

Because of its delicate design to prevent air from reaching the substance, an airless pump bottle is safe for sensitive products, including serums, foundations, and skincare cream.

MAXIMAL UTILIZATION

With its inner mechanism, it leaves no substance left to go waste. A user will get every drop of a product because of the rising piston. It stops a user from causing air contact and grappling to pull the remaining substance.
How may we help you?
Do you need packaging solutions? We are here to assist you up to your satisfaction. We have in-stock as well as custom packaging solutions. Some packaging solutions include airless bottles, PETG jars, acrylic bottles and jars, glass, tubes and bottles, aluminum, and color cosmetic packaging. Also, we offer custom mold services. Contact us for your inquires.